The Spooky Faction is a Faction in Totally Accurate Battle Simulator.
Overview
The Spooky Faction is based on Halloween, and this Faction sacrifices some damage and a lot of health in order to inflict very strong status conditions on enemy units.
Although, there are currently no
Secret Units
for the Faction.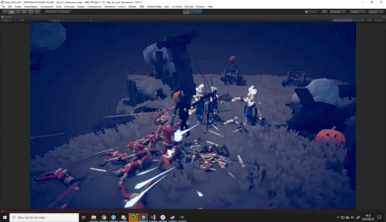 Maps
Spooky 1 - A remake of Medieval 1 map, to follow a Halloween thematic. There are no leaves on any of the trees and there is a small cemetery on the default red side.
Spooky 2 - A remake of Dynasty map, to follow a Halloween thematic. Note that the gazebo and hole in the centre of the map were removed. A grid was placed there instead. There are also vines separating part of each side into three small parts.
Units
Old units
Spider Mage - Scrapped.
Witch Doctor - Scrapped.
Skeleton Pirate -Scrapped.
Ghost - Scrapped.
Unknown pyramid head unit - Scrapped.
Trivia
Community content is available under
CC-BY-SA
unless otherwise noted.